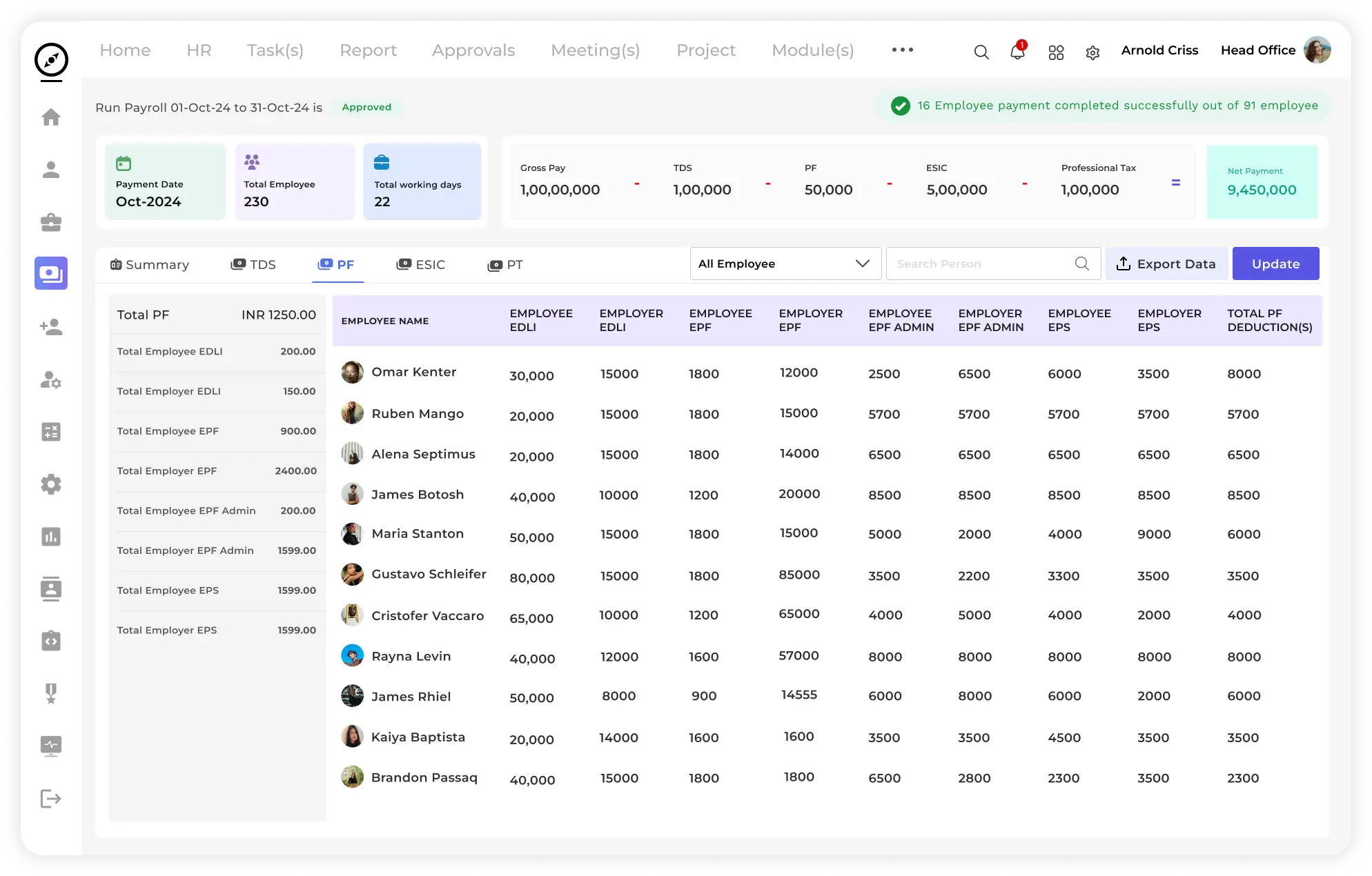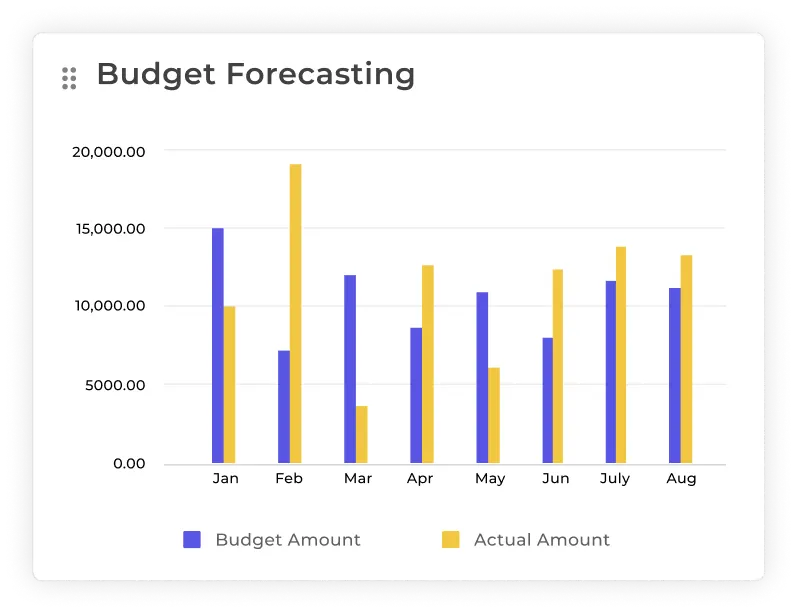 Payroll Solution

to Automate Payroll Calculations with Highest Accuracy
Experience accurate, timely, secure, efficient, and compliant Payroll. Conveniently manage your employee salaries, bonuses, reimbursements, PF, ESI, Income tax, TDS, FNF and more!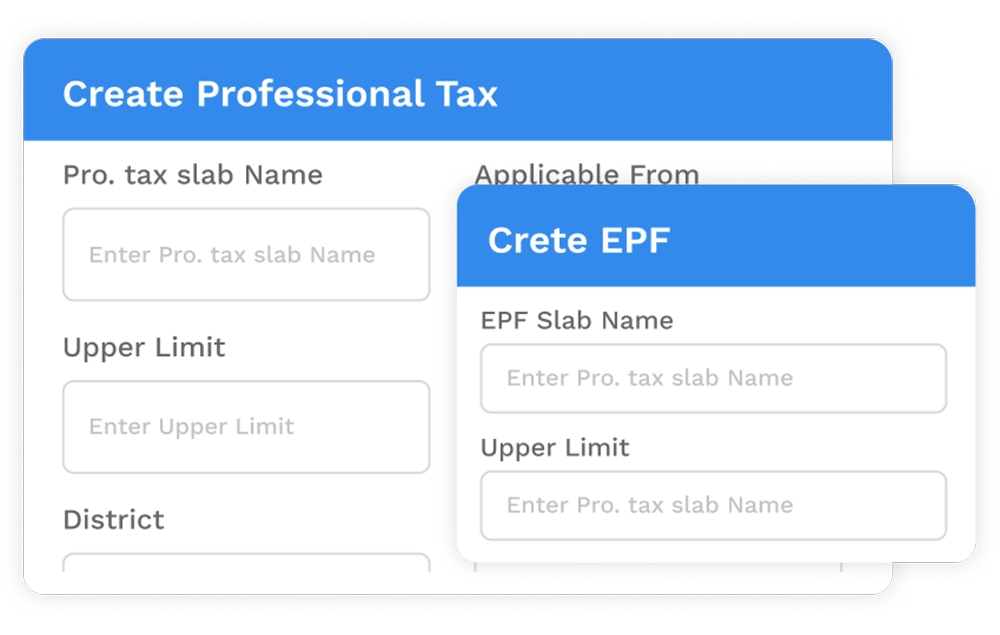 Personalized Pay Structure
Adjust salary components (PF, EPF, TDS, ESIC, etc.), reimbursements, allowances, deductions as per policies with our online payroll system.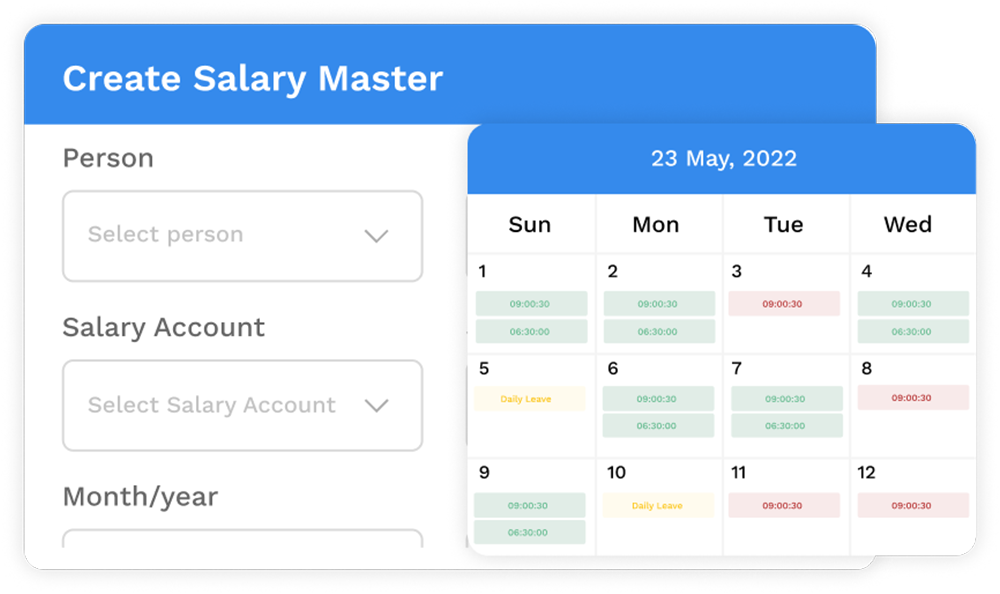 Customized Pay Runs
Create pay slots for diverse salary structures, align with tax regulations, and approvals to track all deductions.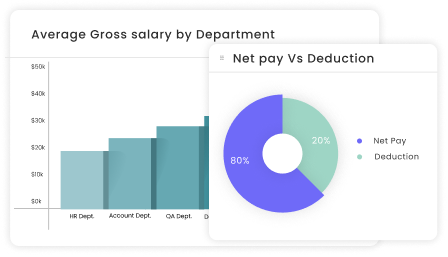 Analytics for Budgeting
Manage project costs, analyze budget allocation, and prioritize the fund allotment to boost operational impact.
Manage Payout Process with

Payroll Automation

Ensure Local Compliances
Automate compliance payments (TDS, ESI, PT, PF) with periodic return filings for hassle-free maintenance of statutory reports.

Track Time and Attendance
Ensure accurate payroll processing by tracking employee attendance, leave data, and effectively utilizing people management systems.

Revise Salary Easily
Effortlessly revise salary structures based on overall performance and positions, using a streamlined payroll management process.

Manage Compensations
Incorporate allowance & reimbursement calculations in employee payroll management process as needed, ensuring accurate payouts.

Automate Payslips
Generate and distribute payslips automatically via email & document automation to eliminate manual paperwork.

Calculate Bonus
Calculate incentives & bonuses automatically with our online payroll system while processing payroll to power up employees & manage bonus policy.
Trust, Efficiency, Accuracy

Payroll Perfected

One-Click Payroll Execution
Simplify payroll processing with a single click. Execute payroll effortlessly and efficiently with our user-friendly interface, ensuring accurate calculations, tax withholdings, and direct deposit payments. Save time and effort while ensuring timely salary payments for all employees. Streamline payroll operations with ease, reducing complexity and improving productivity.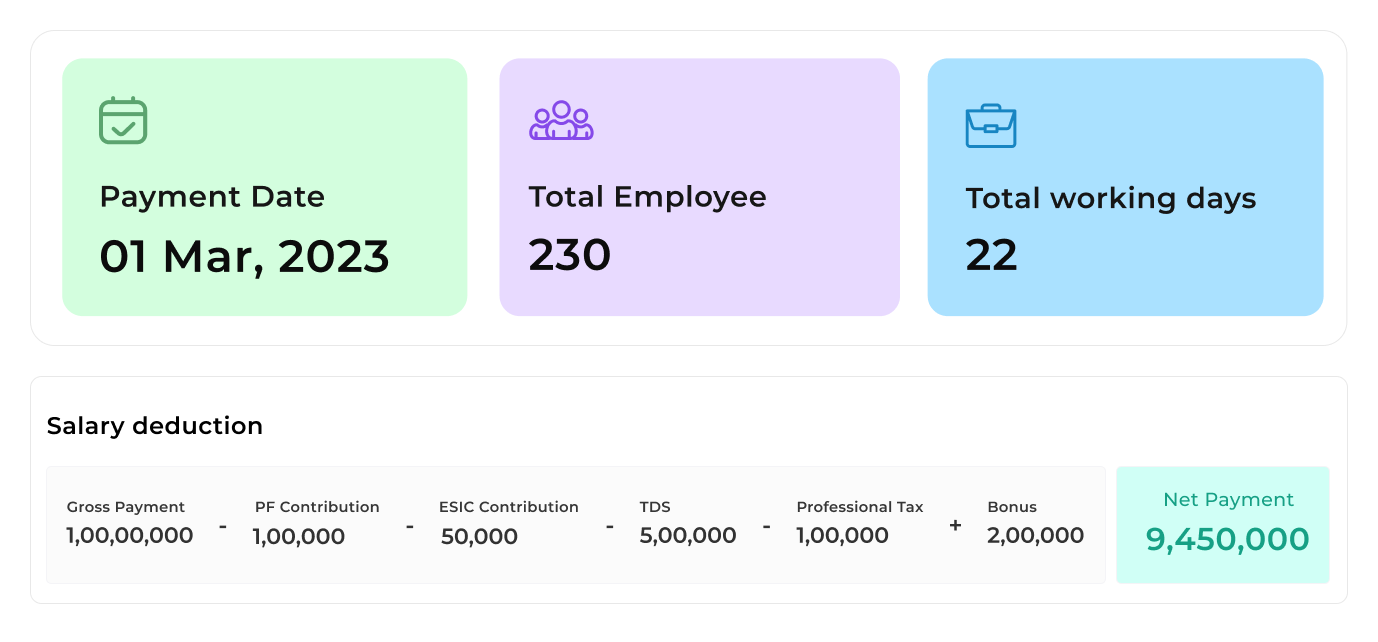 Manage Compliance Effortlessly
Ensure government compliance with ease by effectively managing and tracking employee payroll information. Stay updated on regulatory requirements, maintain accuracy, and simplify compliance processes. Gain valuable insights and generate reports to meet audit and legal obligations.

Automated Salary Calculation
Streamline payroll processes with automated salary calculations. Eliminate manual errors and save time by letting the system handle accurate salary calculations based on predefined rules and variables such as overtime, deductions, and benefits. Ensure timely and precise payments to employees while reducing administrative burden.

Payroll and Salary Headers
Efficiently manage payroll and salary headers with our comprehensive system. Customize and organize headers to align with your organization's unique payroll structure, such as departments, job titles, or cost centers. Gain better visibility and categorize payroll information for enhanced reporting, analysis, and budgeting purposes.

Automated overtime calculations
Bizcompass Payroll System automates overtime calculation and payroll taxes, thereby significantly simplifying the tracking of employee work hours along with additional hours put in as overtime. The Payroll management tool is designed to help HR professionals to efficiently manage work-hours & compensation.

Loan Management
Our Payroll management system Streamlines loan management by automating EMI deductions from employee salaries. Track manual reimbursements efficiently and eliminate administrative burdens. This automated process greatly simplifies the loan procedure for organizations and enhances convenience for employees.

Log verification and management
Enhance the accuracy and compliance of employee payroll processes by effectively assessing and verifying all employee log information through the managing log feature of our online payroll system. Gain valuable visibility and insights into payroll activities.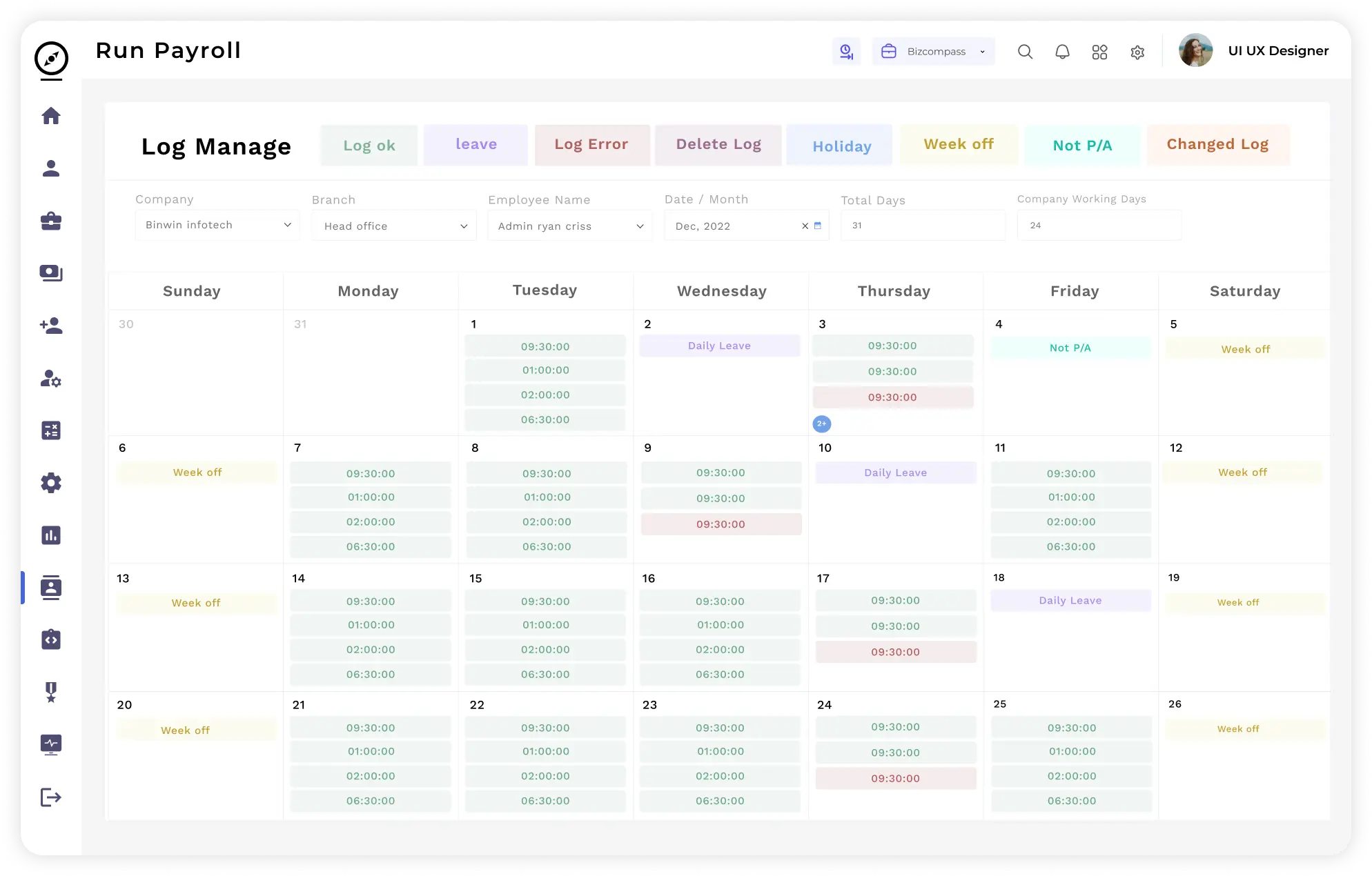 Empower HR Operations Using
Bizcompass

with