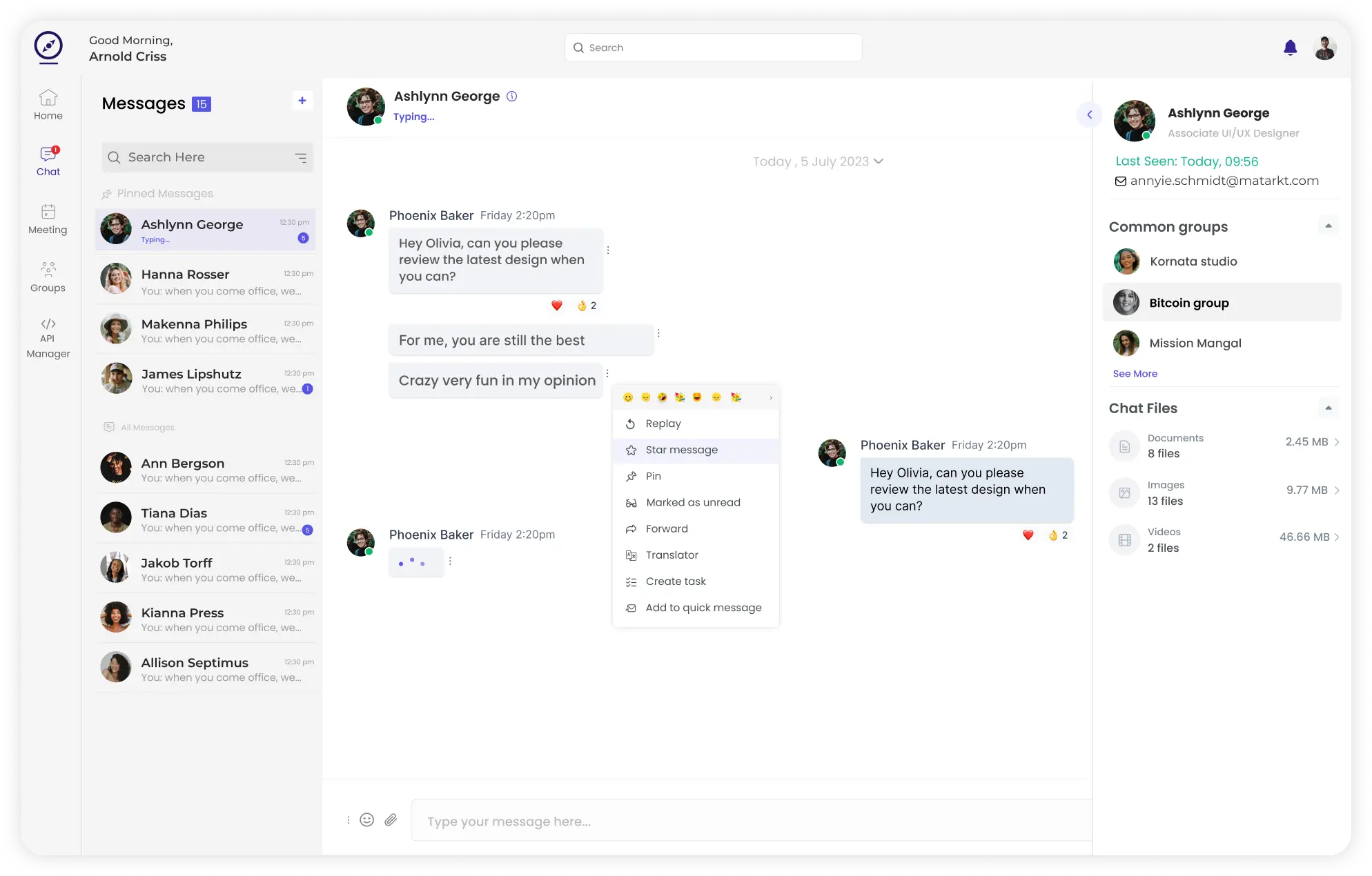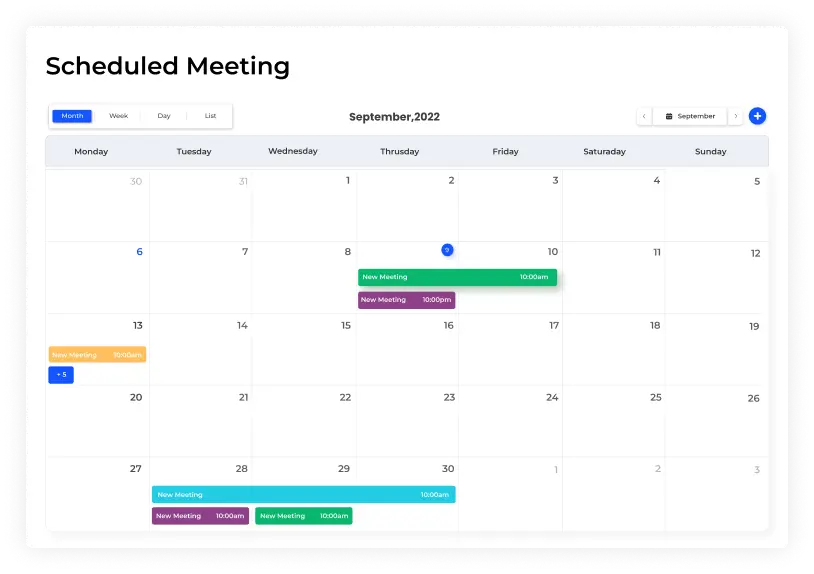 Integrated Chat Tool

to Communicate Swiftly Without Language Barrier
Effortlessly bridge any communication gaps in your organization. Facilitate easy information sharing and decision-making through seamless and smooth interactions.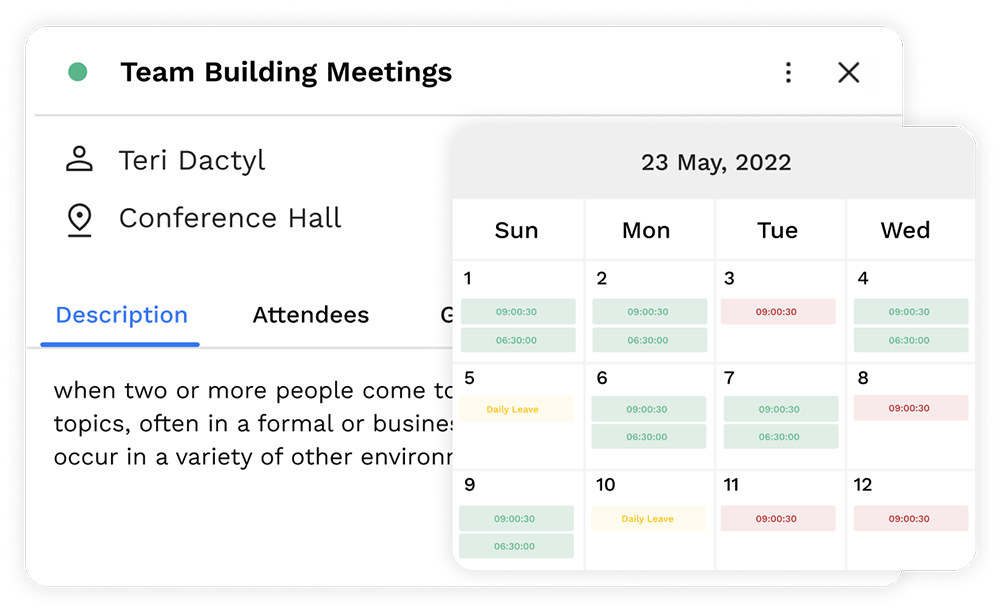 Personalized Calendar
Organize day-to-day tasks & calendar schedules to build action based workflows with our online chat solution.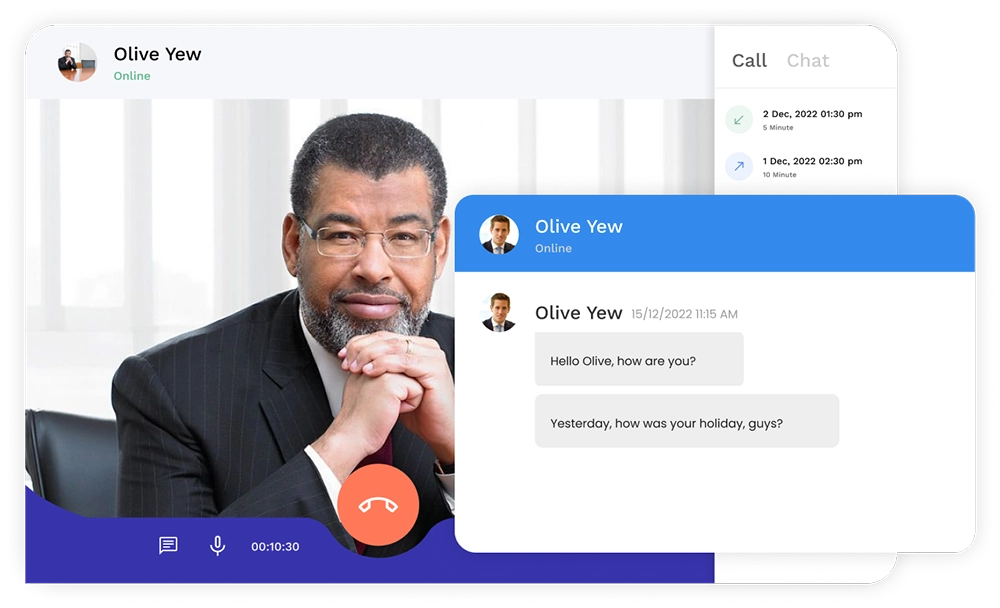 Audio and Video Calling
Robust audio-video calling support feature to promote transparent and valuable business discussions.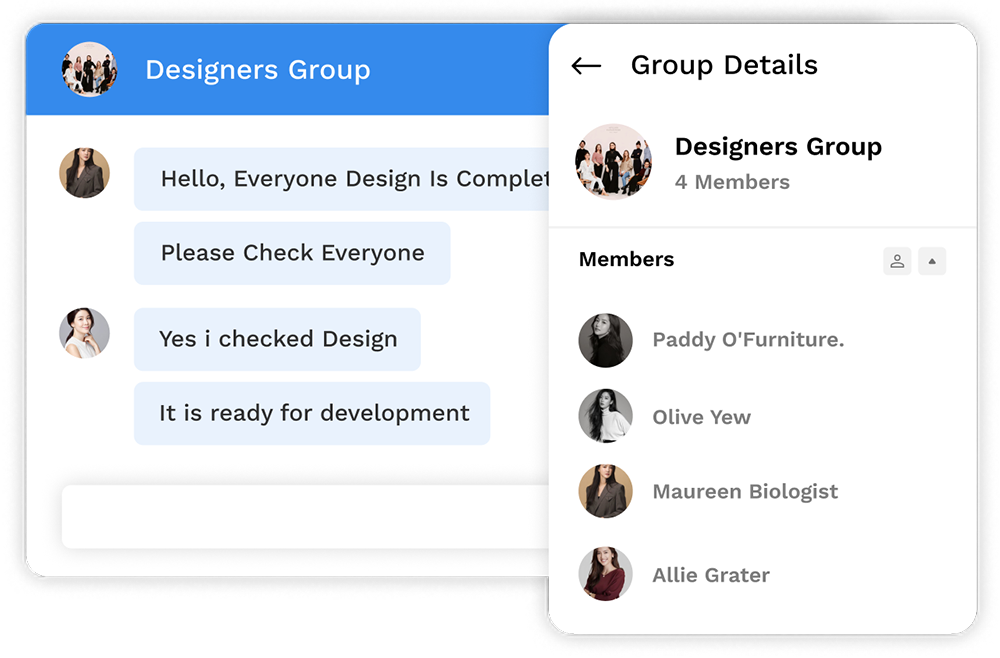 Messaging & Group Collab
Streamline one-to-one or group chats. Facilitate real-time communication and efficient team collaboration.
Experience
Connectivity

like never before

Create Tasks
Our chat solution conveniently assigns tasks for all team members directly from the chat tool, to manage routine project activities.

Schedule Meetings
Schedule quick calls/meetings with teams and foster transparent communication with our chat management system.

Manage Shared Files
Organize shared files, webpages, spreadsheets, links, videos, and images for seamless team communication.

Inbuilt Translator
Effortlessly translate messages to engage in meaningful conversations and discussions with our chat solution.

Chat Integrations
Streamline project tasks with auto-chat groups, configurable notifications, and recent topic-based discussions.

Announcements
Centralize announcements and manage organization-wide communication in a single chat space.
Smooth
Conversations

&
Effortless Collaboration

Project Management Integration
The chat management system comes integrated with a project management tool that keeps track of project activities, meetings, task assignments, calendars, and file sharing. This centralized platform empowers team members to communicate, collaborate, and stay organized in a unified location, optimizing productivity and project outcomes.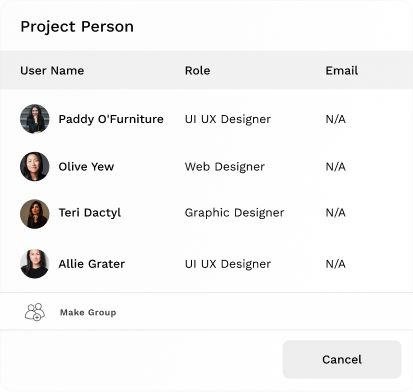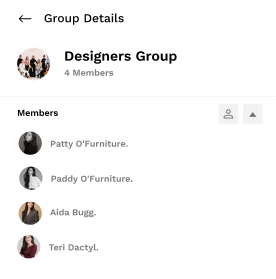 Easy Screen Sharing
Our online chat solution offers a user-friendly screen sharing feature, allowing remote control of single or multiple devices. Users can effortlessly share entire screens, remote screens, browser-based web pages, and more, fostering a collaborative environment that simplifies information sharing & boosts productivity.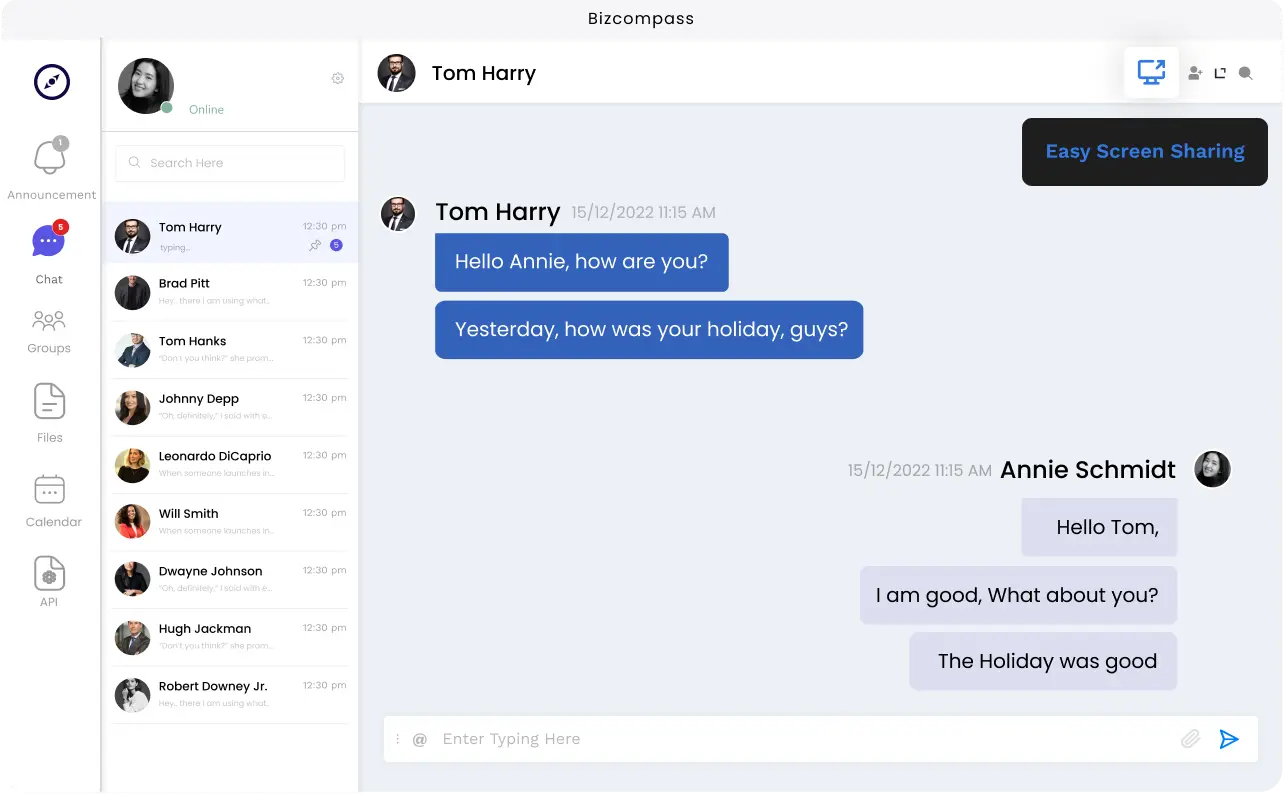 Smart User Tagging
User tagging in our online chat solution enables the assignment of meaningful labels to essential messages, contacts, and conversations. Ensure effective communication & notify the relevant individuals. These tags are invaluable for organizing multiple related conversations and retrieving all discussions pertaining to a specific topic.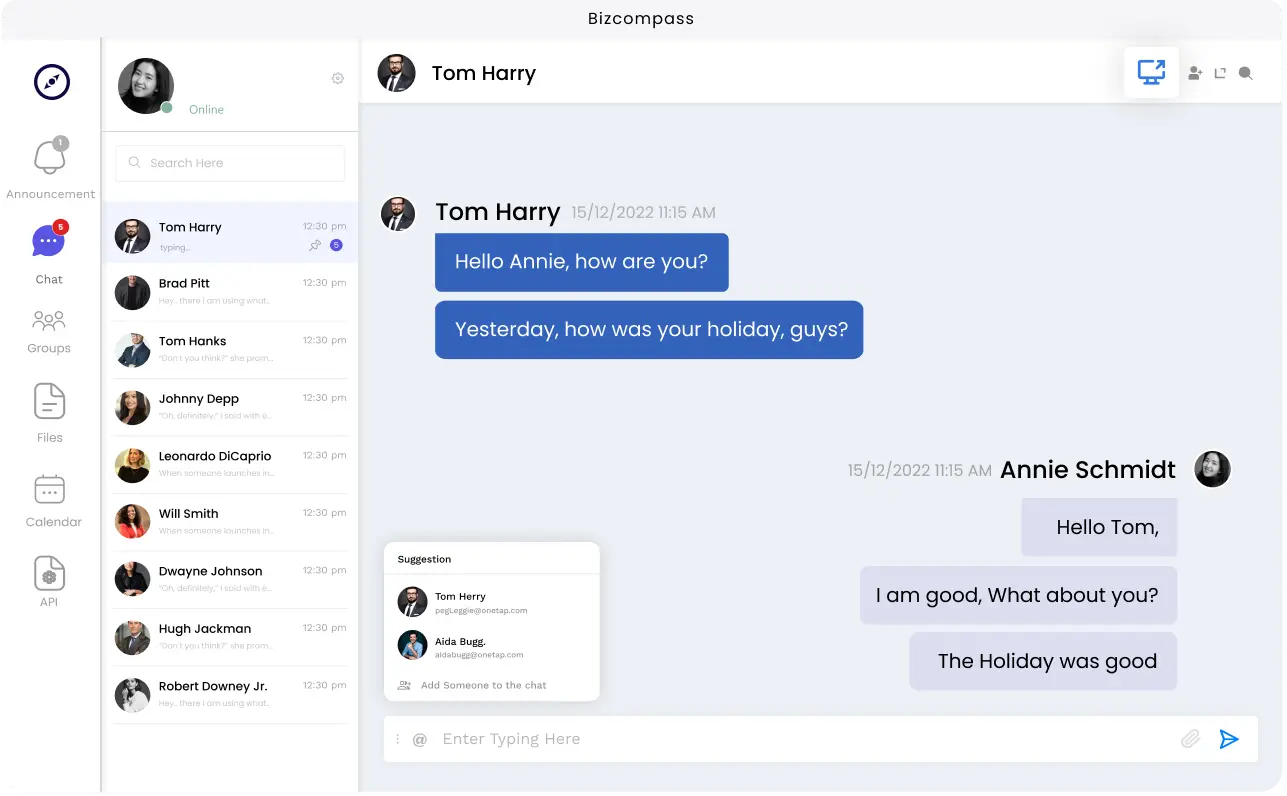 Streamline your
projects

with