Introduction
However, with the development of technology, human resource management software (HRMS) has grown to be an essential tool for modern HR management. Organizations must implement HRMS software into their human resource strategies to carry out these highly intricate procedures, engage employees, and make the best possible use of available or existing resources. The HR department must consider several factors and carry out a wide range of well-planned operations to achieve better employee performance.
HRMS software is a comprehensive tool that enables businesses to enhance productivity, optimize HR operations, and save precious time and money. It is a web-based platform that integrates numerous HR operations, including payroll, recruitment, onboarding, performance management, time and attendance, employee benefits, and other additional duties. It assures that each HR function is conducted in the right way. Here, we'll review why HRMS software is essential for modern HR management.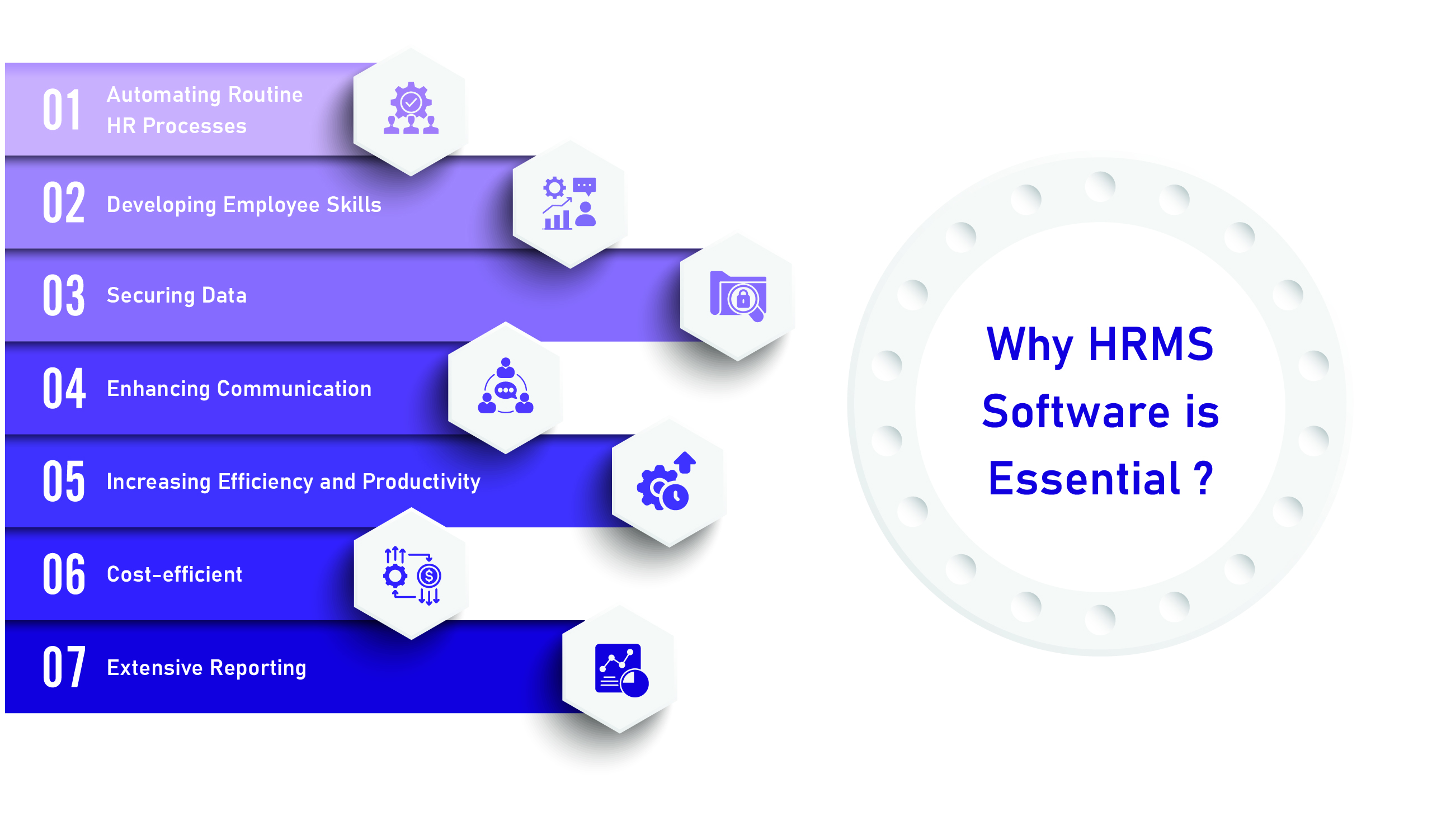 Automating Routine HR Processes
Generally, HR managers aim to do everything they can to make the workplace better for everyone. Even so, they frequently have a tonne of paperwork to manage in addition to regular administrative duties. An HRMS software can easily manage these routine tasks and boost efficiency. An effective HR system helps track records and improve highly time-consuming and resource-intensive activities.
Automating HR procedures takes much less time to complete with no or minimal human intervention. HR-related paperwork can also be reduced or eliminated. Employee information, recruitment, salary adjustments, and other processes can all be standardized. Hence, your HR personnel can focus on raising organizational culture and building a more effective environment for your workforce.
Developing Employee Skills
A modern workforce comprises skilled individuals, not just a group of employees. The HR department must foster the professional development of your long-term employees and help them keep up with the changing business environment. Effective HR software includes learning and talent management modules, which assist your HR team in tracking and implementing skill development programs.
HR managers can use the employee data stored in the system to correlate current skills with needed skills and pursue applicable training programs. The productivity of your workforce can be increased with the right skill development initiatives.
HRMS software provides data security that manual HR processes cannot match. Data is kept in a central database, which minimizes the risk of data being compromised or lost. The HR department can create any document quickly based on this information. They don't have to sift through numerous documents to complete this task.
Additionally, this software offers role-based access, ensuring that only authorized employees can access sensitive data. It helps maintain compliance with data protection rules, including the CCPA, HIPAA, and GDPR. It is especially important because organizations are held responsible for data breaches, which can yield significant financial and reputational harm.
Better communication between employees and HR staff is made possible by HRMS software. Employees can access their personal information, request time off, and examine payroll information through the software's self-service platform. Employees no longer need to contact HR professionals to access their information, which lowers the workload for HR workers.
Also, the software allows HR staff to interact with employees more successfully. They can communicate with the entire firm, arrange performance evaluations, and give feedback to employees. It improves engagement and contributes to the development of a positive organizational culture.
Increasing Efficiency and Productivity
One of the significant aspects of HRMS software is that it increases efficiency and productivity. Because of the automation of HR processes, this software can handle various HR duties simultaneously, which reduces errors and saves time. Employee data management can be difficult if carried out manually. Employee information, however, can be kept in a consolidated database with the help of HRMS software, making it simpler to access and modify.
Additionally, the software helps automate repetitive processes like payroll processing, time/attendance monitoring, and leave management, which frees HR professionals to concentrate on more important responsibilities. It results in higher productivity and more optimized resource management.
When compared to conventional HR practices, HRMS software is more affordable. Employers can save money on human costs and use less physical storage space by using HRMS software. Moreover, the software cuts out the need for paper-based records, which saves on the cost of paper and printing.
HR management software provides real-time data, allowing businesses to make wise decisions about their human capital. By doing this, businesses may improve employee engagement and decrease absenteeism and turnover rates.
The extensive reporting features offered by HRMS software enable businesses to create tailored reports on numerous HR tasks. You can generate reports on staff turnover, employee performance, and absenteeism rates. Organizations can use this information to pinpoint areas that require improvement and make informed decisions.
Additionally, the system gives organizations access to real-time data that they can use to track and measure critical employee metrics like attendance and performance. It improves decision-making and helps in the human resource optimization of enterprises.
Conclusion
The right HRMS software is useful for managing human resources and creating a more compelling workforce. It can greatly impact your business's operations, personnel, and performance. It offers a comprehensive solution that simplifies HR operations, enhances efficiency, and saves time/resources. Software for managing human resources will become increasingly important as businesses continue to embrace technology.
HRMS (Human Resource Management System) will become an essential tool for modern HR management as organizations continue to adopt innovative IT technology. Choosing the right HRMS provider will result in a better employee experience, steadily increasing profitability, and successfully utilizing your business strategy. We provide businesses and enterprises with industry-specific HR software that improves the functionality of their HR department.
Contact us to learn more about our HR software and the services we offer!