Introduction
You might feel too good for it to be true. Since 1940 its invented, automation has evolved from an emerging to an established technology and has been cultivated over time. Innovative technology is transforming the world, and the ongoing race for survival demands businesses to adopt technology and automate internal processes.
A decade before, some businesses were suspicious about automating their functions. Today things have changed, and entrepreneurs identify automation as essential for organizational growth. Every business aspires to use the available resources efficiently to earn maximum profits.
Business process automation for organization
Business process automation (BPA) is a self-explanatory term that refers to technology for automating manual business processes. In this case, a "business process" defines actions organized to achieve a goal, particularly highly repeatable, involving multiple IT systems.
BPA is codifying and programmatically including a related set of software applications to automate processes and workflows to automate manual, repetitive, and multistep business tasks. It enables organizations to streamline and standardize workflows by eliminating or significantly reducing the need for manual intervention.
Business process automation is a way to improve organizational efficiency by leveraging digital technologies. It concentrates on business workflow automation throughout the organization to raise efficiency, boost revenues, and deliver superior customer experiences.
Why automate business processes?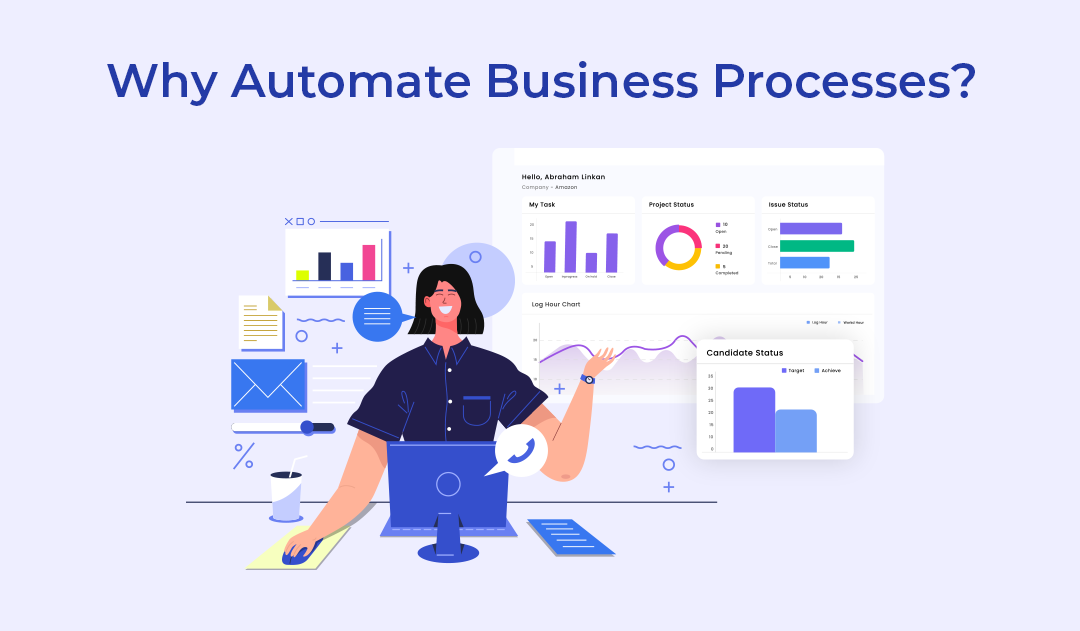 Automation is trusted to deliver high-quality, consistent results that provide valuable insights that might have been overlooked. It is essential for almost every office because it significantly saves money, time, and energy. It provides an opportunity to focus on additional value-added objectives.
Automating business processes is moving towards end-to-end digitalization and helps to get your work done faster and more efficiently so that employees can focus on other organizational tasks. It standardizes routine business processes, establishes excellent security parameters, and supports maximum operational efficiency.
Nowadays, most companies use BPA to manage people, projects, payroll, portfolios, self-service portals, knowledge assets, workflows, and dataflows. Hence, more and more organizations are investing in business process automation today to improve effectiveness, efficiency, transparency, productivity, performance, reliability, and availability in business operations.
Reasons for automating the business process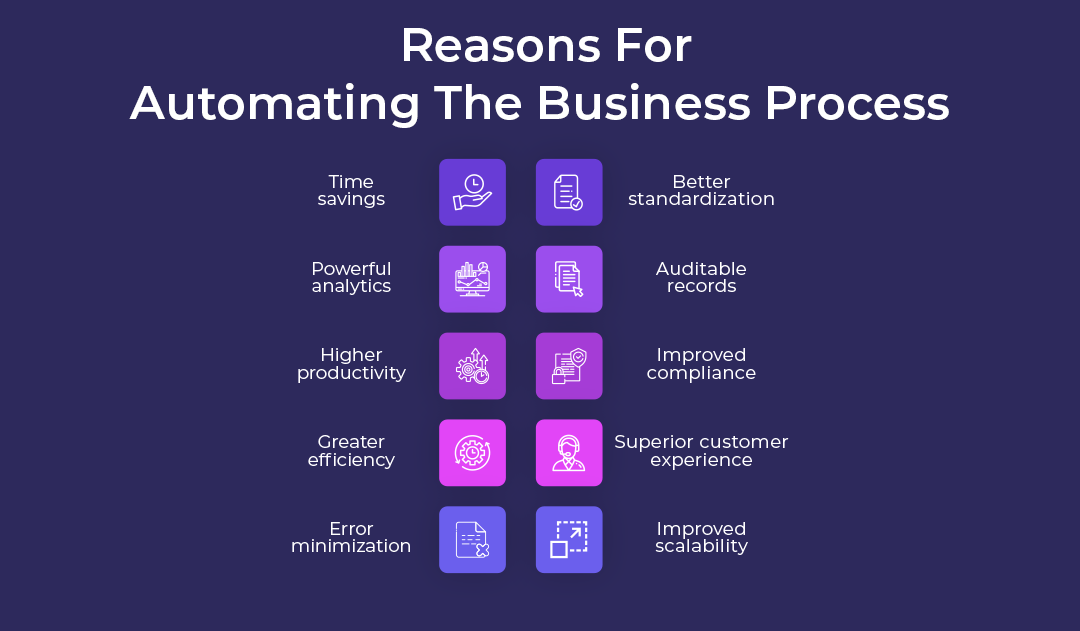 Automation upgrades accuracy by employing machine intelligence to process data. The advantages of automating operations are wide-reaching, from better collaboration among colleagues to systemized compliance for your continued retention plans. Business process automation brings numerous benefits that organizations should acknowledge.

Business process automation eliminates errors, saves time and money, prevents mistakes, and increases efficiency while increasing customer satisfaction. Following are the main reasons of business process automation:
Prevent Human Errors
Everyone knows - To err is human, right? Even the most talented and experienced employees can make mistakes. If they are manually handling tasks such as document processing, it increases human errors. Lack of awareness, concentration, and multitasking can hinder the performance of your employees while functioning routine tasks. That's why it's demanded to prevent the risk of errors as much as possible, which is accomplished through process automation. Many businesses invest in process automation that dramatically decreases human error and avoids redundancies.
Time Savings
Business process automation will decrease the labor work time to accomplish a specified objective. It will save users time and allow them to complete their daily tasks quickly. Therefore, employees can focus on more important decisions and higher-priority tasks, requiring critical thinking, creativity, or the human touch.
Stronger Security
Paper records and documents are much more vulnerable to being stolen or corrupted and ruined in unexpected circumstances. And manual paperwork activity can threaten organizational security. With that said, automating processes promotes additional security measures and protects your most confidential data. Multiple layers of security, such as password-specific logins and verified user access, help you keep content digitally and safeguard data.
Greater Efficiency
Business process automation helps organizations fulfill tedious tasks and avoids errors by maintaining consistency with accurate and reliable results, thus significantly improving efficiency. So, it gives your business authorities more time to focus on its primary goals. Business process automation also enables recognizing and updating workflow errors. It enhances to higher operational efficiency overall.
Significant Cost Savings
With manual business processes, there's a greater possibility for resources to be wasted. And these processes often lead to lost profits. Therefore, business process automation is utilized to save core resources and costs. Organizations can increase their profitability as the expense of operations is minimized by commissioning routine tasks to systems. Automation improves employee efficiency as it can save companies money and labor by diminishing errors and paper-based tasks.
Streamlined Compliance
Compliance is an essential part of any successful organization. Automation simplifies regulatory compliance. It helps companies meet data protection requirements with security controls such as encryption and role-based access control. For every computerized process run, the log captures task performers' names, details of tasks, and the timeline within which they were completed. These logs can be helpful during audit courses and establish appropriate compliance. Hence, process automation can support businesses to stay compliant easily.
Higher Productivity
BPA reduces cumbersome manual processes and frees employees from tiresome manual tasks that employees must do daily. So, employees can save more time and focus on more significant work, which improves productivity. Therefore, they can easily manage meaningful gains in workload, demand, and customer services.
Better Standardization
Every employee performs different methods for the same manual processes. Unfortunately, these ways are only sometimes the most efficient. In comparison, business process automation follows the same procedures to conduct tasks and never fails the rules you specify. Hence, it can help you standardize processes, acquire consistent outcomes, and create harmony in your workplace to set organizational transparency.
Visibility and Transparency
Automation is excellent for enhancing visibility and transparency in processes through customizable dashboards. You can easily keep track of key performance indicators (KPIs) for your current processes and measure employee performance to indicate which areas require improvement. It makes teams informed about task assignments and uplifts accountability.
Easy Document Management
Managing data and documents manually can be a monotonous task for anyone. With automation, document management is streamlined completely. Automatically catch essential documents and data for effortless data management and recovery. So, it is easier for users to access the details they require and share materials in real-time.
Better Collaboration
These days, most offices have made an intended change towards automation, thus simplifying their daily tasks and encouraging better collaboration among teams. Another excellent benefit of automating business processes is that you can send alerts and reminders to update your team on relevant to-do tasks. It makes collaboration between employees much easier and more organized.
Superior Customer Experience
More delighted customers, faster processing, and time savings help your teams focus on delivering better customer service, which boosts customer satisfaction. With process automation innovation, you can handle customer queries quickly and trust that their sensitive information is secured and managed accurately. It furnishes a positive brand image and heightens customer experiences.
Conclusion
From the above, you can understand why you should move to automate business processes and how it can help both business and team members. Automation offers multiple cost-efficient benefits with customer and employee satisfaction.
When presenting automation, most organizations require additional support from employees anxious about job security. But every business needs to automate and introduce digitalization at all levels. Merge with the organization's culture by educating and training the employees without producing bitterness among employees.
Business process automation is the most important for flexibility, efficiency, sustainability, and competitiveness. Here at Bizcompass, we provide a way to automate business processes and workflows using our solutions. We have given you a powerful tool to elevate your business to a new height of productivity.
Accelerate technological growth by adopting automation systems developed using the Bizcompass platform.