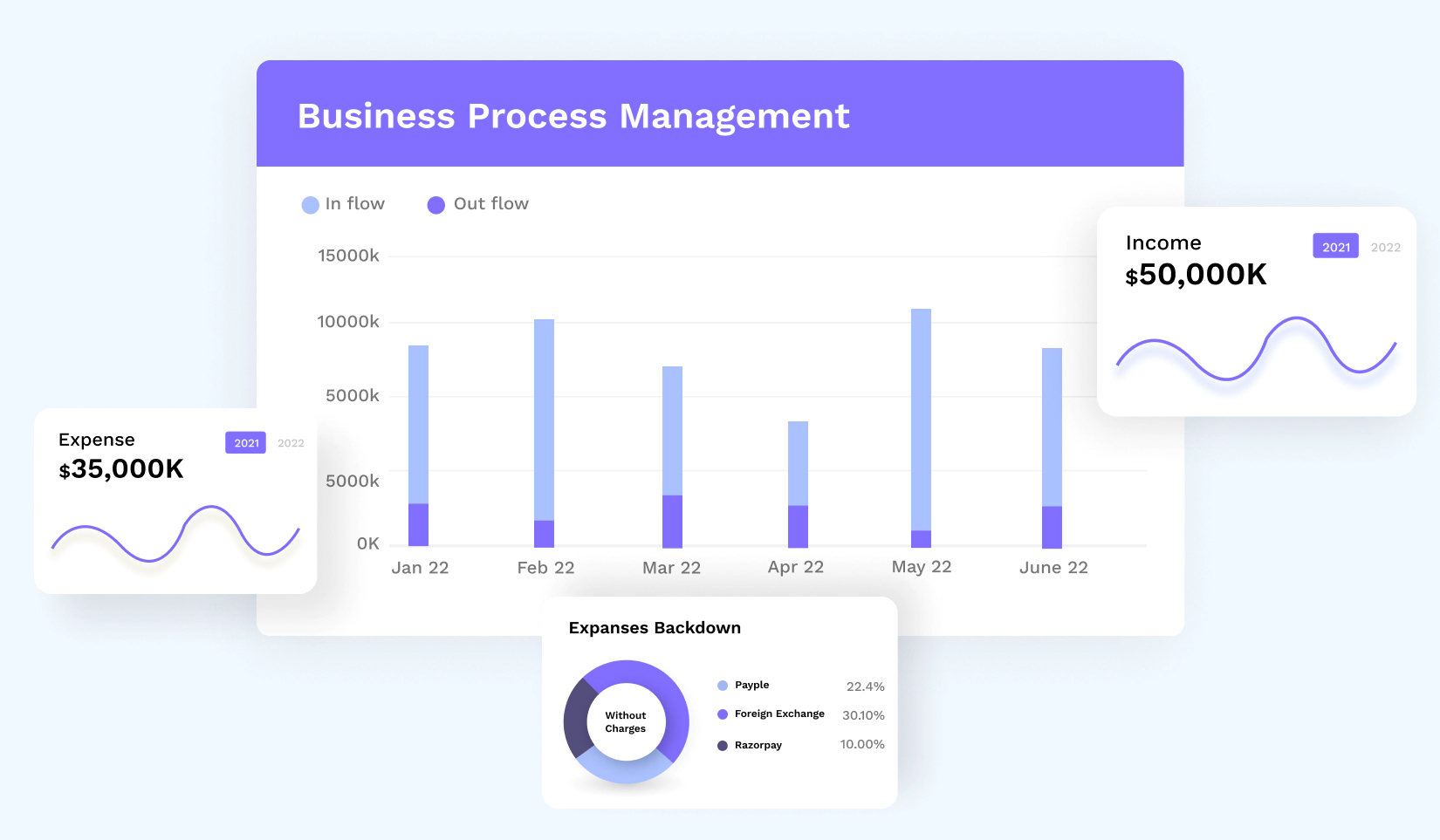 The Role of Business Process Management in Today's Digital Transformation

>

Zankhana Patel
Introduction
Today, organizations increasingly rely on advanced technologies to automate processes, streamline operations, and improve customer experiences. Hence, business process management (BPM) has become a key component of accelerating digital transformation in this environment. To reach business goals, the practice of BPM entails the analysis, design, implementation, and continual improvement of business processes.
Even though business process management (BPM) has been around for over two decades, it has evolved differently. For example, businesses deploy cutting-edge BPM technologies to reduce business and IT gaps. Yet, a BPM tool can help an organization achieve its objectives by lowering costs and increasing productivity through improved processes and technology integration.
As businesses evolve in the digital age, staying updated and adapting to change is more important than ever. Businesses can accomplish this by implementing accurate business process management (BPM). In this blog, we will define what BPM is all about, explain how it helps digital transformation, and discuss the role of BPM in today's digital transformation.
Business Process Management (BPM) Helps Digital Transformation
Business process management (BPM) is a set of strategies and tools that support firms in streamlining and automating their operations. It is an essential component of digital transformation because it helps enhance performance, lower expenses, and satisfy customers. BPM strives to add customer value by increasing speed, flexibility, and efficiency. In addition, it is employed to improve internal communication among teams and departments. So they can perform tasks more efficiently.

Business process management (BPM) enables organizations to drive changes immediately rather than being slowed down by drawn-out operational approval processes. That makes businesses respond to changing customer demands and market conditions. Additionally, BPM helps digital transformation by encouraging businesses to use technology in new and interesting ways. Using cloud-based services rather than developing their infrastructure, combining data from several sources into one system, or automating work are a few examples.

Digitizing processes promotes organizations to increase efficiency, lower errors and enhance decision-making. BPM can also help organizations adapt to changing business needs and customer expectations by allowing them to improve their processes.
BPM's Role in Today's Digital Transformation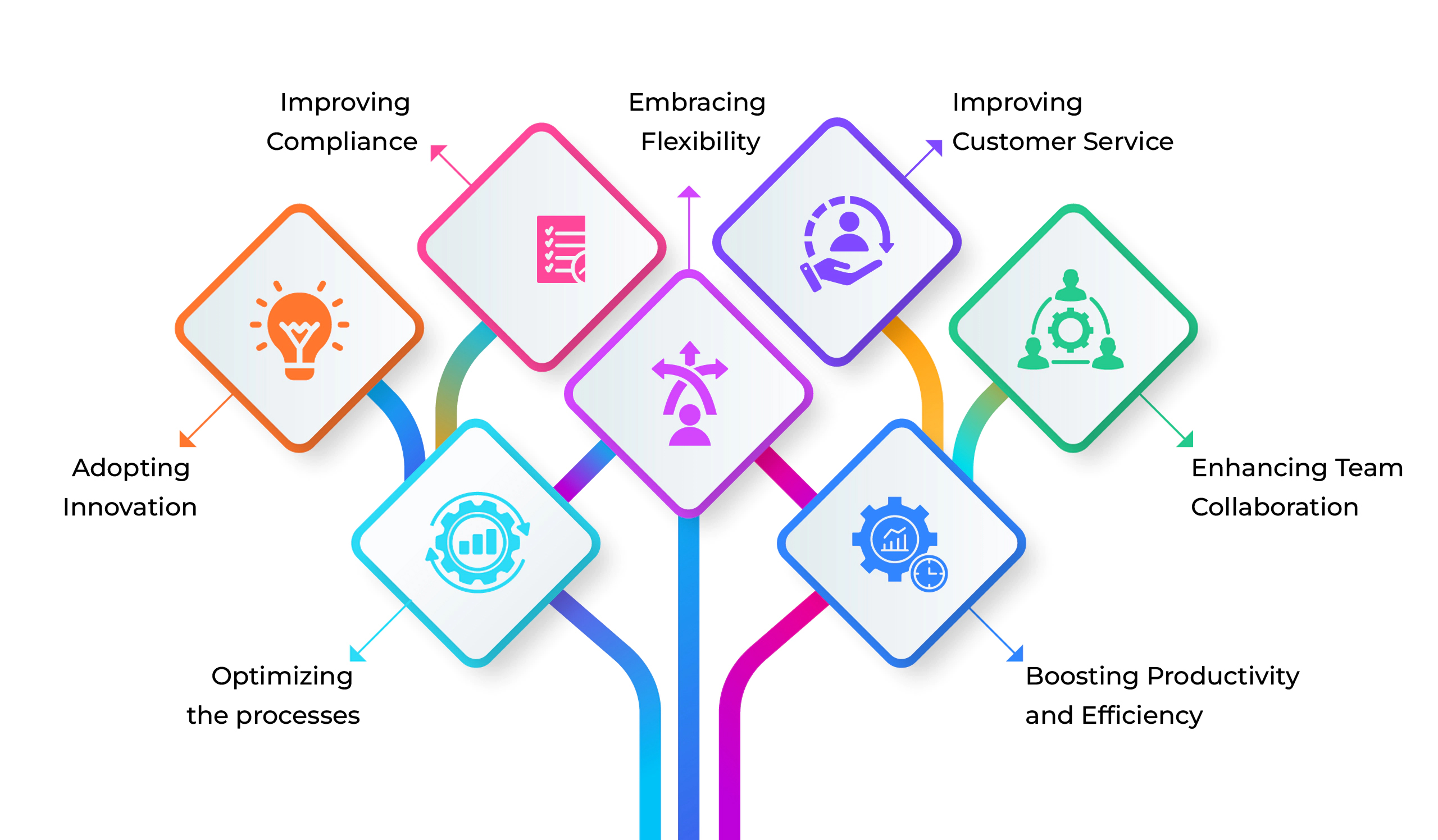 Business process management is the key to achieving digital transformation in an organization. It gives businesses a means of managing their internal processes and enhancing factors, such as
BPM is essential for optimizing business processes to increase efficiency, productivity, and quality. It enables businesses to find process errors, inefficiencies, and redundancies in operations and create solutions to address them. By automating business processes and minimizing repetitive tasks, BPM lowers costs and cycle duration while enriching accuracy and compliance. Therefore, it leads to increased productivity and decreased errors.
BPM provides a comprehensive approach to innovation and transformation. BPM assists organizations in developing innovative strategies that elevate business advancement and competitiveness. By analyzing existing procedures, it recognizes opportunities for improvement. Further, BPM establishes a structure for ongoing process improvement. So, it allows management to stay ahead of their competitors and achieve long-term success.
In today's digital world, organizations face more challenges in maintaining compliance. Accordingly, they must enhance their compliance processes and encounter these difficulties to stay competitive. Business Process Management (BPM) is required to accomplish this. Businesses can improve business process management by automating and simplifying their processes. That will help them manage their compliance processes more effectively.
Boosting Productivity and Efficiency
Business process management (BPM) enables organizations to design more effective and efficient procedures than their existing ones. It frequently entails identifying and eliminating inefficiencies and tedious tasks in current operations. Besides, BPM can streamline business processes so that different departments use standardized methods, saving time and money. It can also boost productivity and efficiency within departments.
Improving Customer Service
A firm's success increasingly depends on the customer experience in the modern digital age. BPM offers a structured approach to customer engagement and service delivery, which supports firms in becoming more customer-oriented. Likewise, it affects their brand perception among customers. That is why modern BPM technologies enhance the customer experience while cutting costs. With the help of BPM, businesses can design and implement client-focused processes and constantly better them based on customer response and feedback.
Organizations must be flexible and agile with digital transformation. That responds to changing business demands. BPM helps firms react fast to shifting market conditions by delivering a structured approach to process design, analysis, and improvement. BPM also supports organizations in handling risks and uncertainties by building a framework for continuous process evaluation and enhancement.
Enhancing Team Collaboration
Collaboration and communication across departments and functions are fundamental for digital transformation. Organizations can use BPM to break down communication barriers and boost team collaboration. BPM provides a universal language and system for designing and improving processes. And allow the teams to work together more efficiently and successfully.
Conclusion  
Business process management (BPM) is very important in driving digital transformation. It gives businesses a framework for transforming their internal processes and customer experience. With a comprehensive range of tools, business process management software inspires businesses to rethink how they approach workflows and customer interactions for an organization's digital transformation journey.

Bizcompass makes your businesses thrive in their journey toward digital transformation. Our automation software assists you in creating a reliable and consistent BPM system to smoothen your business processes. Bizcompass also helps you automate manual processes and tasks that optimize resources, improve business performance, and maximize efficiency. As a result, it boosts employee productivity and adds value to the firm.

BPM will play a huge role in establishing long-term business success as firms navigate the digital landscape.