Introduction
Human resources (HR) are one of the most important divisions of every organization. Previously, HR included doing all activities manually, such as,
Recruitment Process

Onboarding

Training & Development

Performance Management

Expense Managing

Leave and Attendance Management

Handling Payroll

Exit Management
As the number of people in your organization increases, these spreadsheets become tiresome and time-consuming. Spreadsheets may eventually lead to confusion and redundant mistakes.
But what about now? With the rapid advances in technology, the automation revolution has transformed everything.
Human resource management data show that 47% of the biggest organizations use automation tools such as the Human Resource Management System. So, we can say that every organization should consider implementing Automated HR software and stop using spreadsheets for HR operations.
How does HR Automation work?
As automation refers to the automated process of any operation, HR automation refers to the technique of automating repetitive HR duties. Automation helps you,
Boost the HR department's effectiveness

Enable employees to put their focus more on strategy

Reduce the cost of employment

Allow users to specialize in challenging tasks

Save more time on manual HR planning and processing
Organizations may automate routine HR tasks and support employee lifecycle management using HR automation solutions. This results in time and cost savings without affecting the quality level of work.
HR automation can reduce multiple responsibilities, such as hiring and onboarding, payroll management, and other employee-related tasks. If you don't know anything about automation tools, let's discuss how to revolutionize your HR tasks from spreadsheets to Automation.
Revolutionize Your HR Tasks from Spreadsheets to Automation
Consider below several reasons that HRMS Automation can revolutionize your HR operations: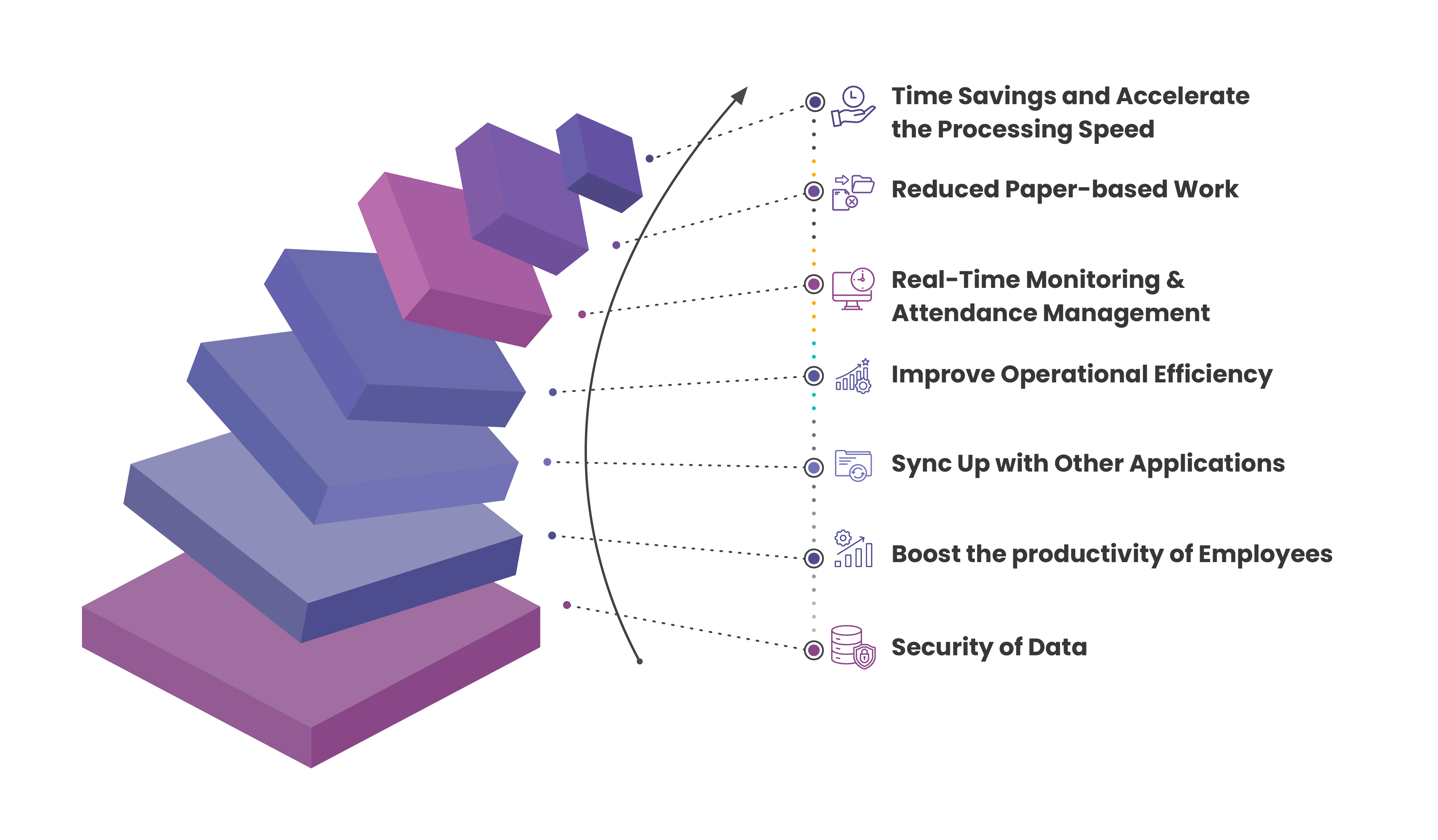 Time Savings and Accelerate the Processing Speed
When you use automation solutions, certain operations become faster, and HR is given more time to perform their duties. According to the study, "67% of recruiters agree that HR automation will save or already minimize time in the recruiting process."
As we discussed before, automation software includes a variety of solutions that contribute to the HR department and other employees. HR software is often useful in managing every employee of the company.
Having HRMS software with cutting-edge capabilities allows staff members to submit documents, monitor their attendance in real-time, check their professional data, and more. Also, an employee may immediately check their pending leaves and request additional without needing a written letter, an email, or a vocal conversation.
Reduced Paper-based Work
The primary advantage of using HR automation software or tools is that it reduces paper-based work or operations.
With automation, you can reduce the necessity of paperwork for everything. It seems very clumsy to witness a room full of documents or papers.
Here are some benefits of using HR automation software:
It is simple to find any important documents quickly.

Effortlessly share files with your coworkers.

In minutes, you may edit digital documents.

It helps to reduce operating expenses by freeing up office space.

If a piece of paper or a document is missing or misplaced, easily locate it as data centralization is present.

Ensures security and safety by limiting system access to administrator control.
Real-Time Monitoring & Attendance Management
Real-time monitoring is important for any employer that values workplace rules and regulations. HR software is for you if you're one of those people who wants to increase productivity by tracking time and work.
HR personnel may spend significant time reviewing spreadsheets to mention time, checking time records, and other significant documents and emails. There is no right way to waste HR time while evaluating employee timesheets. It will be very inefficient for the organization.
With Automation Software, you can automatically keep track of the number of hours worked, the number of hours in the office, the number of leaves taken, and other pertinent data. It helps you generate real-time reports to track every user's attendance details.
Improve Operational Efficiency
You can do multiple tasks more efficiently when everything is at your fingertips. With the help of HR automation software, you may boost efficiency by doing several operations.
HR employees can quickly gather all the information from personnel records to attendance to leave and payroll. Hence, HR professionals may focus on fostering a positive work environment, improving individuals' behavior, and improving organizational culture. Also, HR managers can:
Measure employee performance

Give more relevant feedback

Specify important duties

Reward accomplishments

Make succession plans for encouraging excellent employees
HRMS systems enable staff members to take control of their own performance, such as,
Keep track of their own progress

Ask for help and make improvements between regular evaluations

Create their long-term objectives
With HRMS software, Managers will be more aware of how employees perform their tasks and acknowledge their progress. As a result, it can improve operational efficiency and streamlines the HR process.
Sync Up with Other Applications
If everything is digital, it should relate to other apps used for HR processes. HRMS systems can effortlessly interface with all third-party programs to streamline the process.
Previously, the system was not fully automated or had centralized data. But because of technological innovation, you can now integrate different systems.
Application Programming Interfaces, commonly known as APIs, allow HR software to do this. It simplifies the transmission of data from one system to another.
Boost the productivity of Employees 
As you know, HR process automation eliminates unnecessary duties like data input and manual personal or professional information processing.
The HR team may concentrate more on other crucial responsibilities like decision-making, brainstorming, employee behavior, office culture, etc., by considering all the work handled by automation software.
User-friendly automation solutions increase morale and productivity for everyone, not just HR and team members.
Security of Data
Whether it is online or offline, protecting employee details is extremely important. You may save your most important data on a cloud server by using HR automation technologies.
As a result, you do not need to be worried about losing your data, which frequently happens in spreadsheets. Further, this data in the automation tool is authenticated to prevent any employee from accessing the data of other employees.
Conclusion
Automation software for HR is less expensive than you may imagine. Even a small company owner may purchase HR software at an acceptable cost. It is advantageous over spreadsheets because, as per the study, automating regular operations might result in yearly savings of up to $5 trillion for businesses.
If you're still doubtful about installing HR software, connect with Bizcompass software now. You'll discover how our HRMS software can keep your HR staff working smarter and more efficiently.
You can be aware of the areas where HR members waste their valuable time and affect productivity. So, it's time to automate your HR activities using Automation Tools - HRMS Software.